salud y pesetos pays homage to ancient iberian artifacts
Amid the remote natural landscape of the Sierra María-Los Vélez Natural Park in Almería, Spain, Jorge Mañes Rubio explores authenticity, myth, and place with Salud y Pesetas. At an off-grid rural farm, the artist presents a series of vessels inspired by ancient Iberian archaeological artifacts, delving into the nuances of ritual power, identity, and culture. Crafted from local clay found on site, the works feature decorations, figures, and symbols, and incorporate esparto grass and contemporary materials including climbing rope, hair extensions, glass beads, and pearls.
Modest in size yet bold in appearance, the vessels emanate a non-tangible vital force, offering a glimpse into a land threatened by abandonment and desertification, acknowledging this remarkable ecosystem and the larger-than-human dimension that defines it. 'The vessels depict local landscape, flora and fauna together with votive figures: sentinels of local spirits and deities, expressions of an ancestral knowledge that is real and imaginary at the same time,' notes Rubio.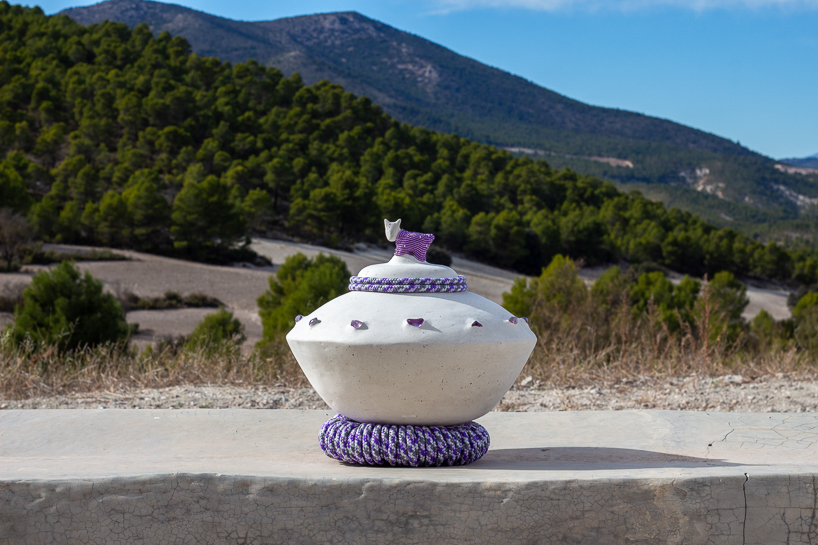 Visión #2 (Ancestral) at JOYA | all images courtesy of Jorge Mañes Rubio
jorge mañes rubio fuses narratives of authenticity and myth
The conception of Salud y Pesetas dates back to when artist Jorge Mañes Rubio came across the tale of El Corro and El Rosao, two early 20th-century con artists from Totana who sold hundreds of forged ceramic artefacts to collectors and institutions globally. Their methodology involved combining cow manure and sea breeze to age ceramics with an ancient patina, making these forgeries virtually impossible to distinguish from real Bronze Age ceramics. Following many years of successful business, they came up with their own 'artistic' creations, marketing them as extremely rare archaeological treasures from the Iberian Peninsula, though their ambition and creativity quickly led experts to recognize their fraud. In this negotiation of authenticity, through the performance of buying and selling, a very specific form of memory was generated: a load of history, legend, beliefs, and expectations.
Rubio, following in their footsteps, collaborated with local potters in their hometown, blending personal narratives with ancestral Iberian symbols. This exploration of materiality delves into the negotiation and production of authenticity, myth, and place. The project was completed during the artist's residency at JOYA: AiR, near the end of which he came across a pre-historic rock shelter hidden atop a mountain, only known to a few local shepherds. Its mystical rock art figures suggest ancestral ritual use, while today, the cave is home to the vulture, ibex, dear and the occasional Iberian lynx who roam these mountains. In homage to the site, the artist decided to leave a cache of these vessels inside this cave, where they still remain to this day. After a 2 hours hike with other resident artists, he placed eight pieces at the cave's deepest end, recording these offerings through analogue and digital photographs as well as with multiple detailed 3D scans, opening the possibility for the ritual to be replicated endlessly on a virtual realm.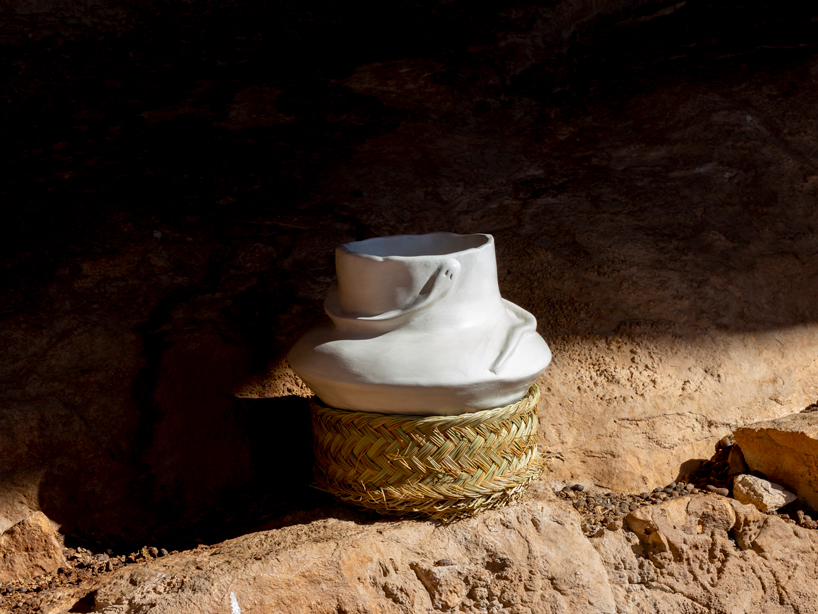 Photograph of one of the vessels inside the cave.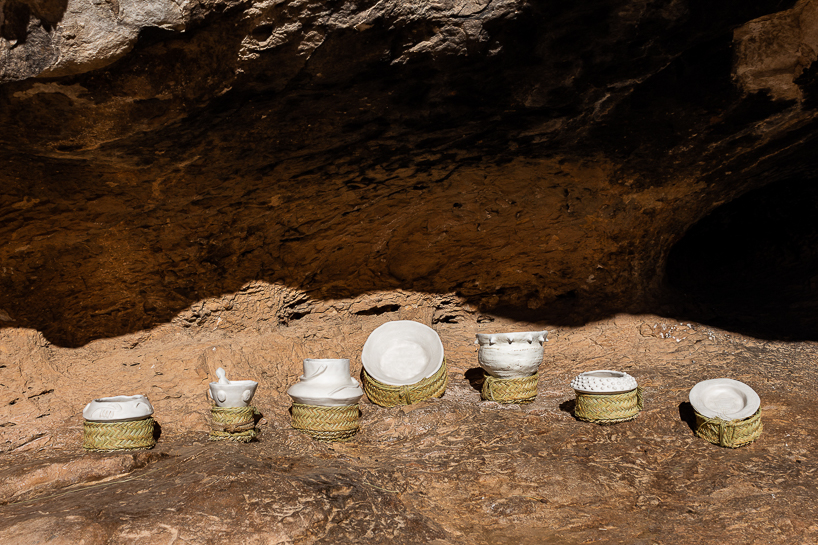 Vessels as ritual offerings inside the cave.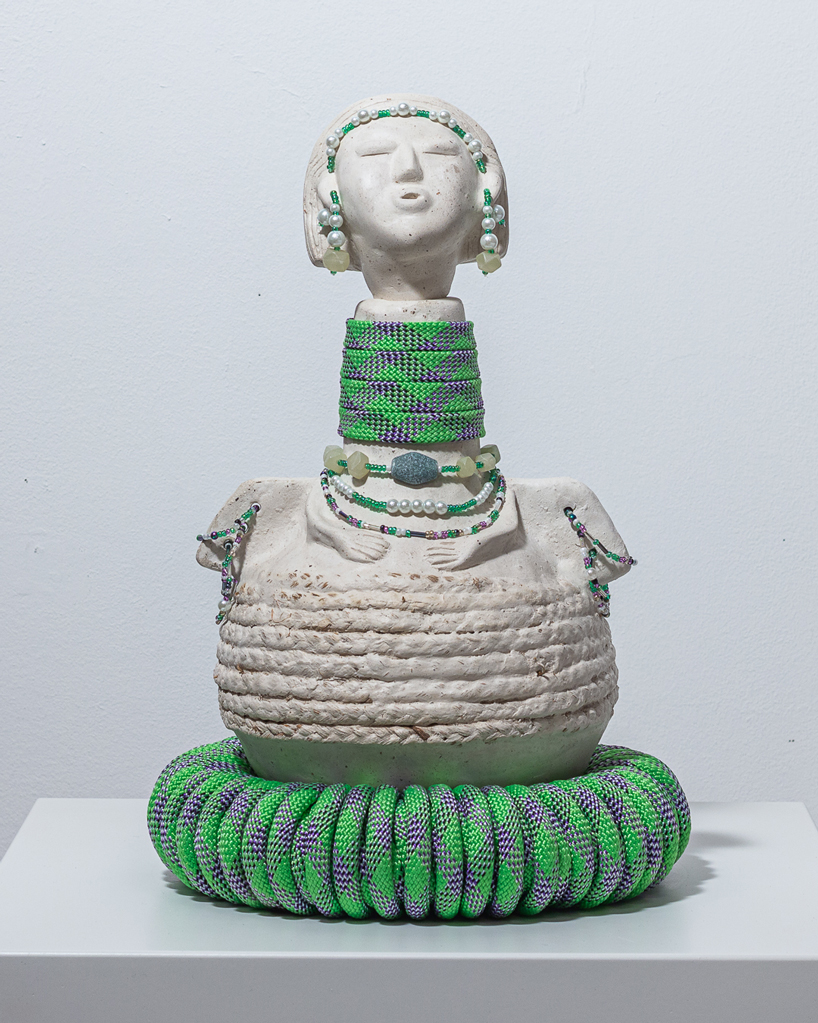 Visión #1 (Barranco)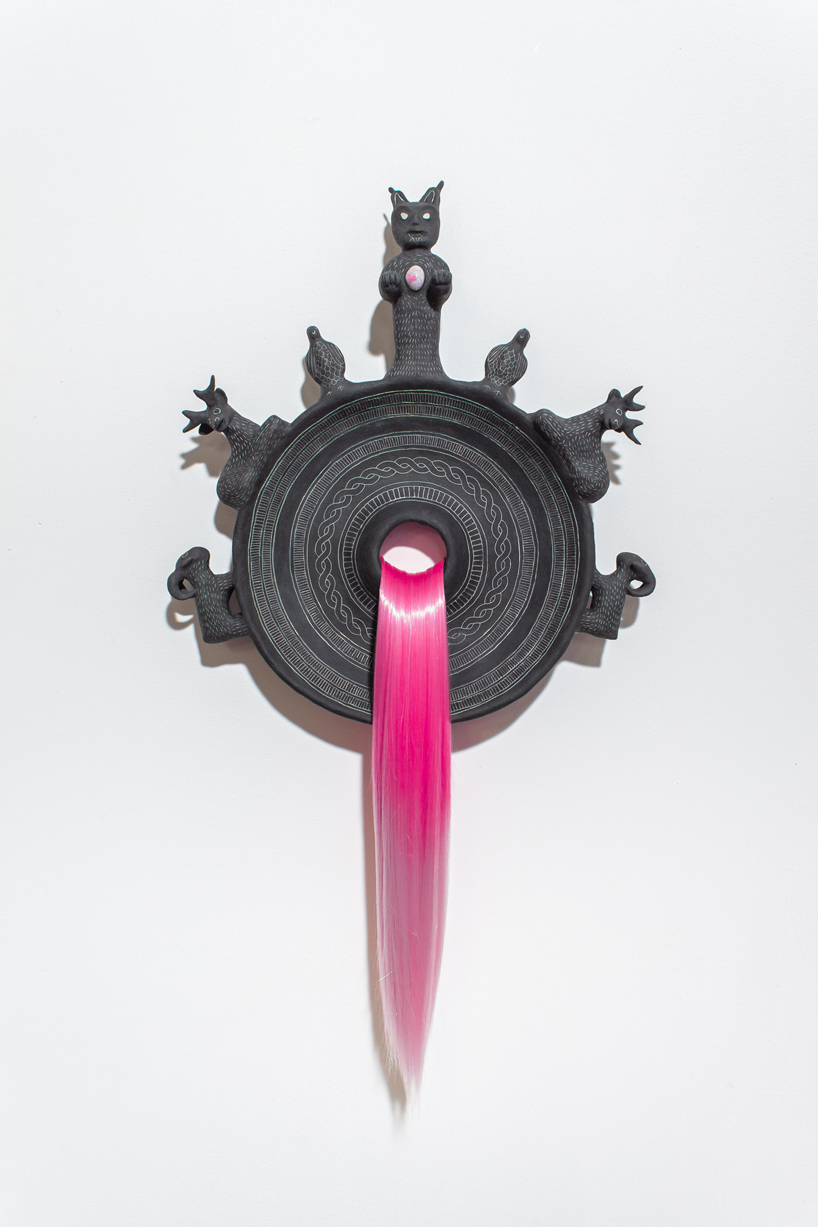 the work features vultures, ibex, dear and an anthropomorphic Iberian lynx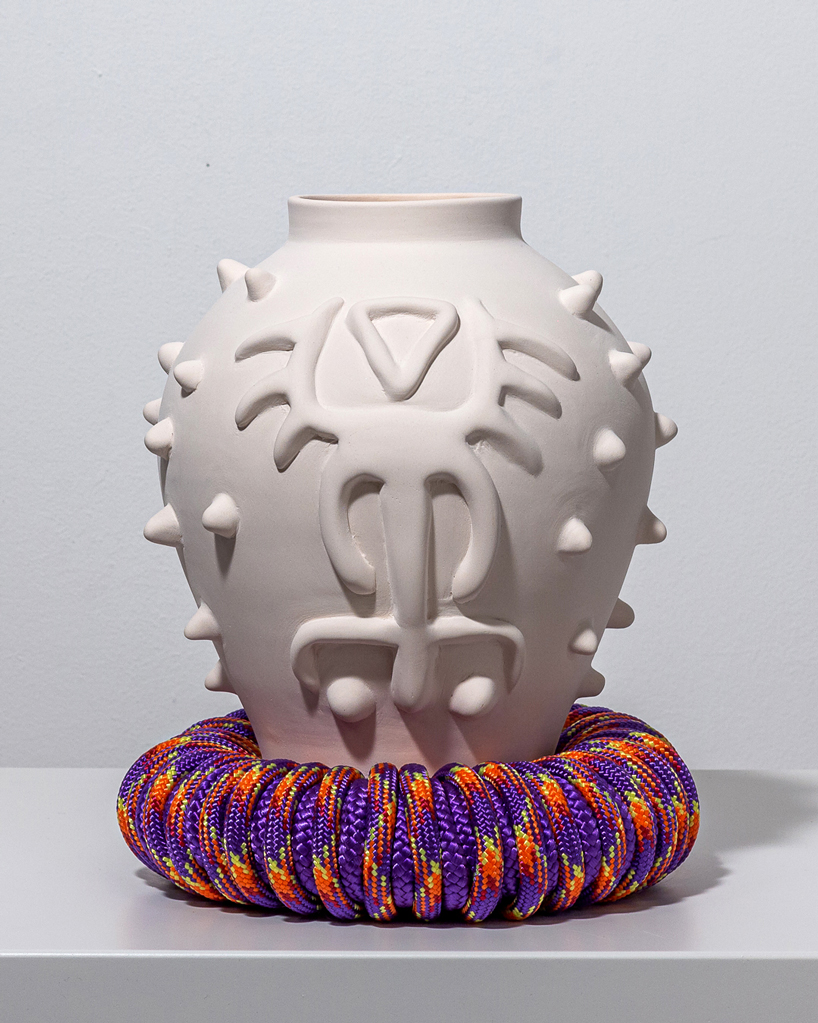 Visión #7 (Astral)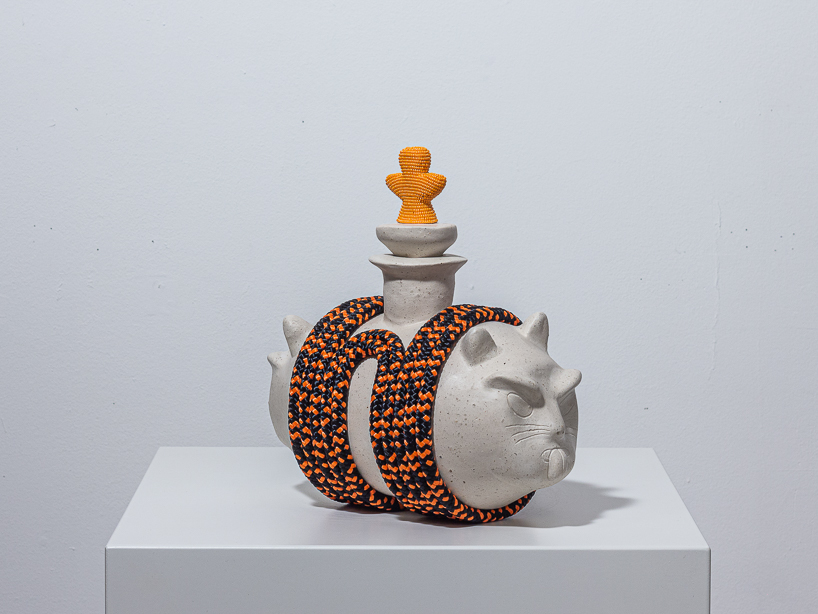 Visión #3 (Quimera)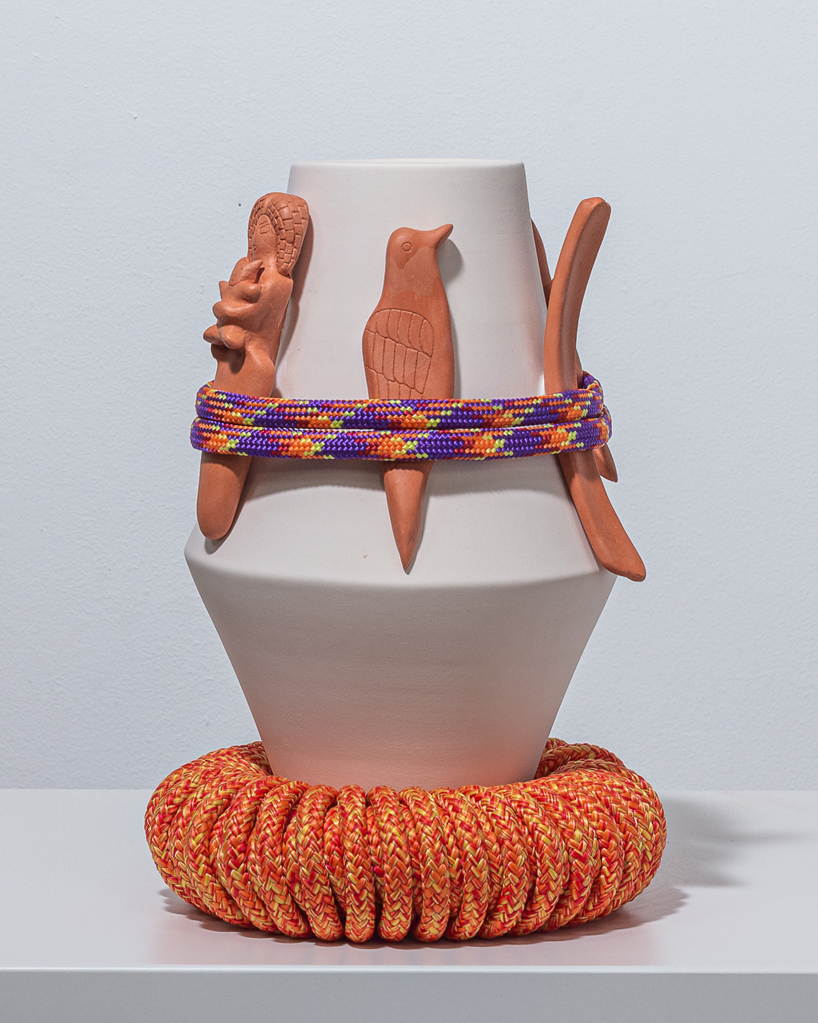 Visión #10 (Instrumental)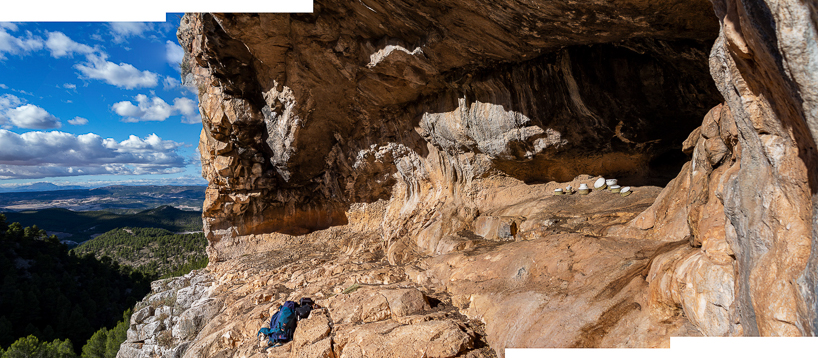 Panoramic view from the cave, undisclosed location, Parque Natural de Sierra María-Los Vélez, Spain.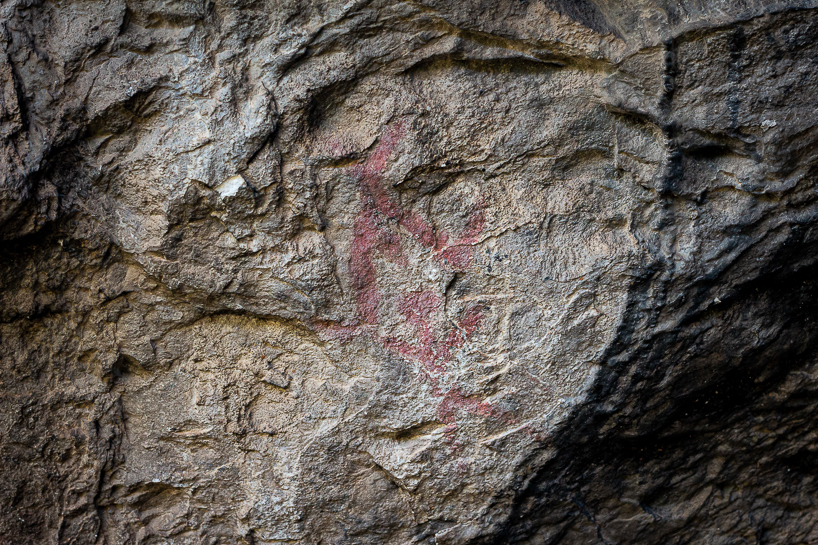 Rock art figure inside the cave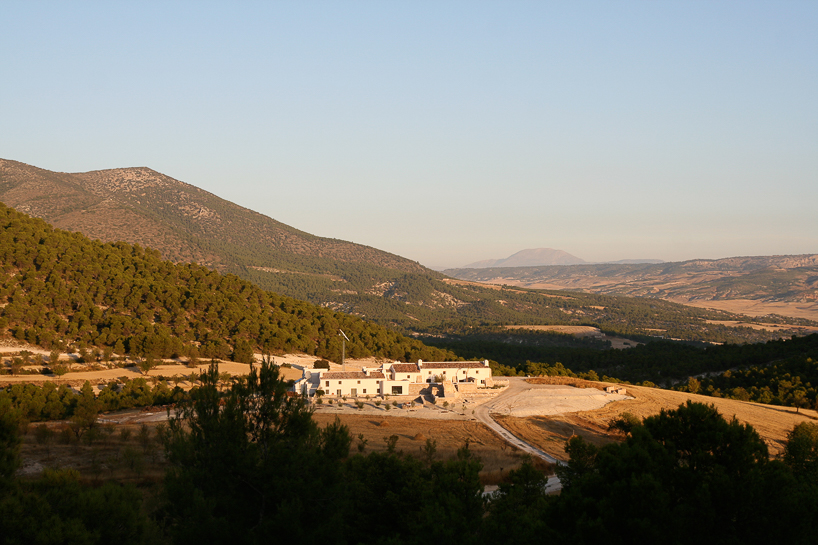 an artist in residence farm in Parque Natural de Sierra María-Los Vélez, Spain | image courtesy of JOYA AiR
project info:
name: Salud y Pesetas
artist: Jorge Mañes Rubio
designboom has received this project from our DIY submissions feature, where we welcome our readers to submit their own work for publication. see more project submissions from our readers here.
edited by: ravail khan | designboom
Source link