between two vaults by twobo arquitectura
Spanish studio Twobo Arquitectura breathes new life into a snug 120 sqm apartment in Barcelona. Completed for a lighting designer and their family, the project revolves around shaping and giving purpose to the space, filled with unique memorabilia and objects. 'In the home of a designer, the objects are like an extension of the family. Like photographs or paintings, these objects' careful selection tells a story. Chairs, shelves, and lamps add to the memories but are also the embodiment of those memories. When we got there, the objects were important, but the space was improvised,' writes Twobo. This approach began with the ceiling design; through the interplay of depth, background, and the central pillar that punctuates the interiors, the studio sought to create a unique ambiance, as captured by José Hevia emphasized by the addition of two parallel ceiling vaults that draw inspiration from Catalan architecture — thus endowing the project with its name, Between Two Vaults.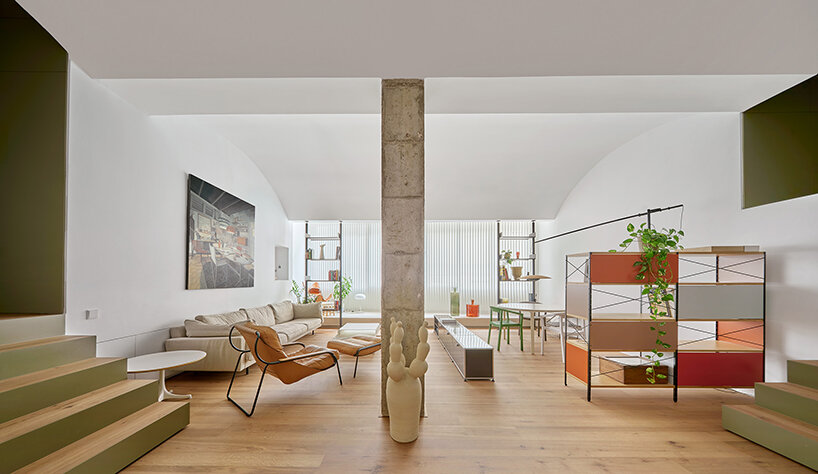 all images © José Hevia
breaking up the existing duality
Before Twobo Arquitectura (see more here) kickstarted renovations, the family had bought a place next door and attempted to colonize the new area by means of a tunnel in the shared wall. This was the first attempt to make a home from two apartments, one that showed signs of a dual nature: two doorways, two kitchens, and two symmetrical halves inhabited by one single family. Following this merged layout, the architects took down the wall separating both apartments, making the tunnel vanish and rooms from each side facing each other for the first time. This gesture broke the duality and presented the studio with all the potential relationships of one unit. These newly exposed rooms now serve as the new living-dining-kitchen room, with an impressive height that Twobo carefully spotlighted, giving it a central role while exposing a structural pillar.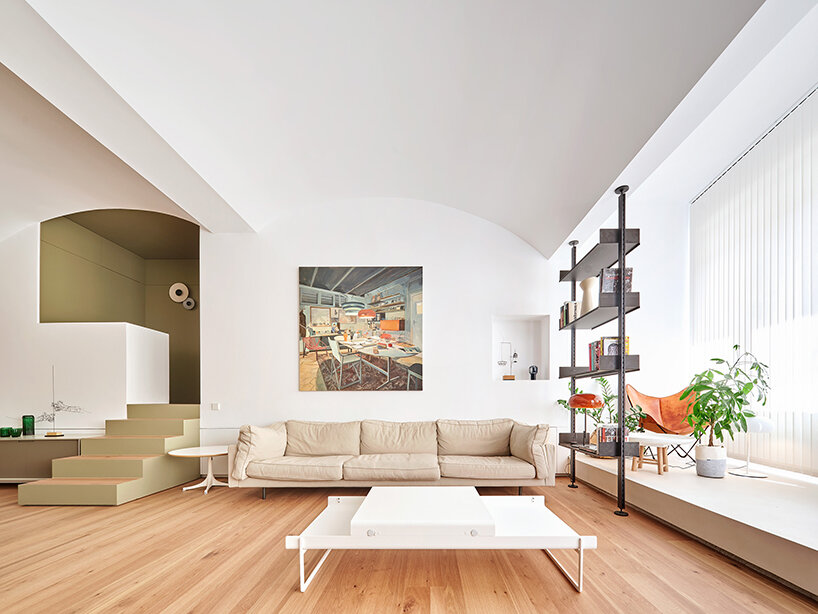 Between Two Vaults: a renovation project in Barcelona
using parallel vaults to create depth and a sense of shelter
Beyond height and exposure, the space also needed order from the top down. To give clearer purpose to the new volume, the ceiling was shaped in the form of two parallel vaults that define the renovated interiors in three different ways: (1) Giving a sense of shelter, (2) highlighting spatial depth through their perpendicular position from one vantage point, creating a foreground and background where there was once an undefined plane, and lastly (3) giving the central pillar a purpose by opposing a horizon to its vertical nature. 'When all is done, the family returns to find their right place in their new place. Both people and objects find shelter under the new ceiling, without dualities, happy in their singularity,' concludes the Twobo team.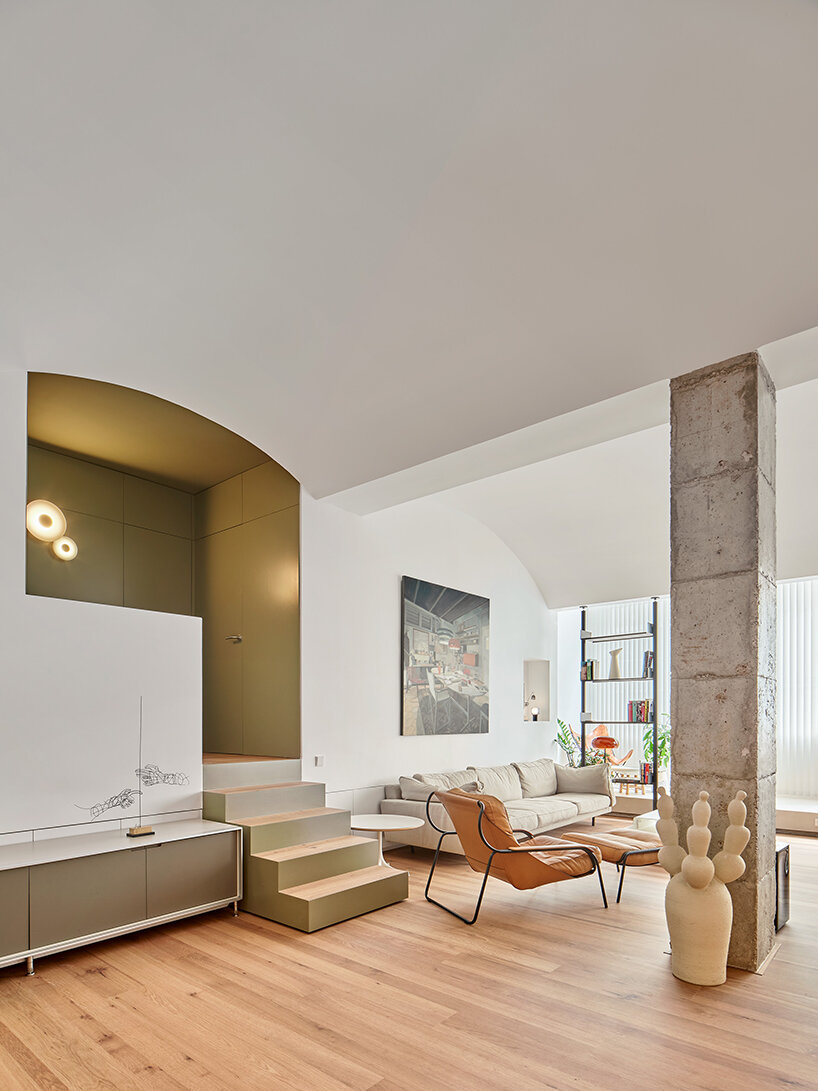 the 120 sqm flat belongs to a lighting designer and their family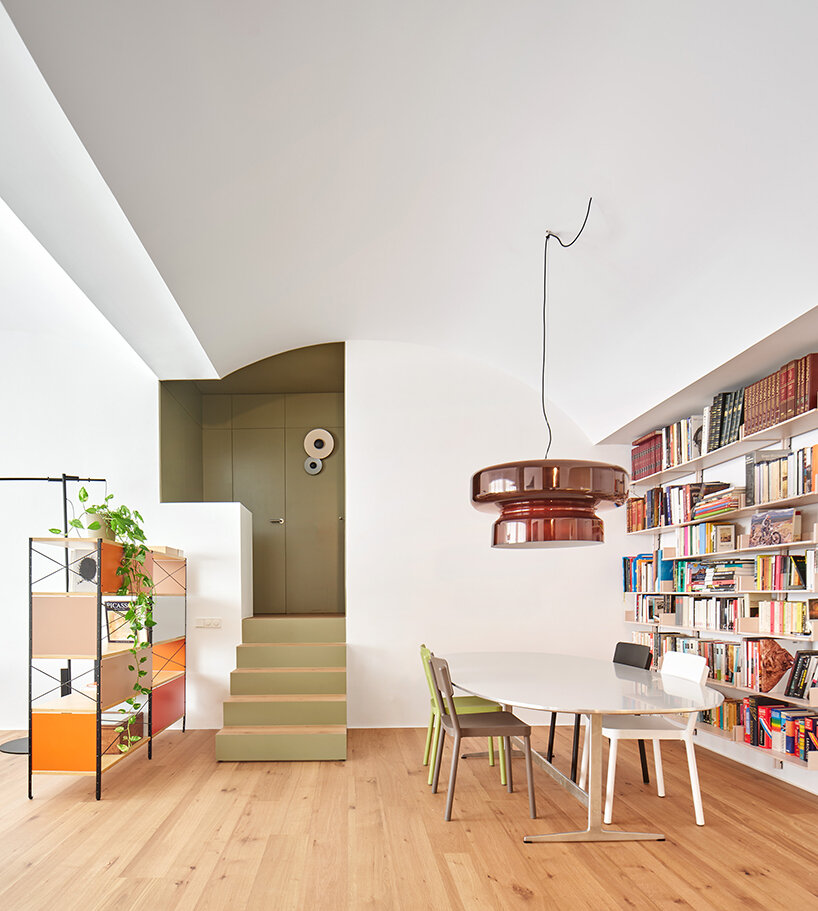 vaulted ceiling brings depth to the dining-living area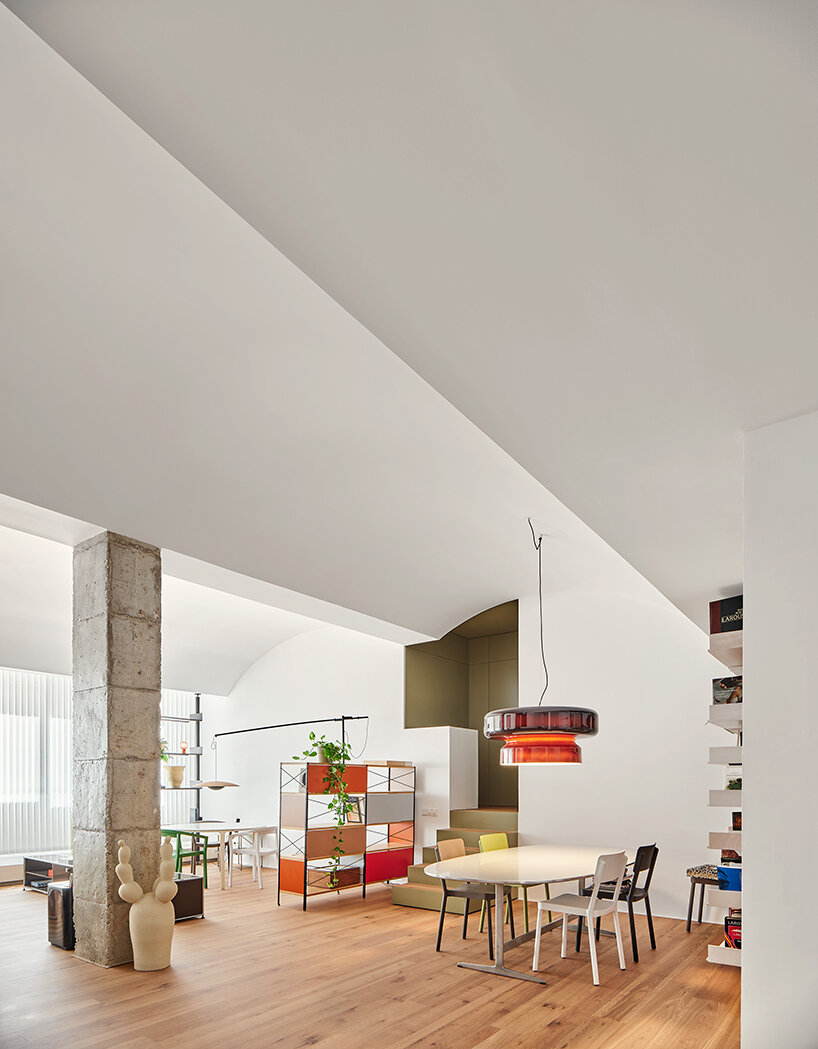 Twobo Arquitectura uses an exposed pillar as a focal point
Source link