Tongass Ledge by PBW Architects emerges from the seashore
Design practice PBW Architects takes over the construction of 'Tongass Ledge' an intimate residence and lookout sitting gently perched over the Alaskan shore. The structure balances the two volumes of the observatory at a subtle angle at the edge of a stone wall overlooking the inlet water and surrounding seascape. The complete design required a simple form and program, personalized through highly custom interiors.
The geometry is defined by two tall shed roof structures with a connecting corridor between them. The joining formation serves as the home's main entrance, linking the private and public spaces with an outdoor deck. The eastern side of the property is kept mostly opaque by tree coverage and minimal openings to create a sense of seclusion from neighbors. Along the west side of the home, the master bedroom and living room extend as cantilevers over the rock wall below, giving a sense of floating above the water. Floor-to-ceiling glazed windows allow unobstructed views of the landscape and give the interior spaces an outward directionality. A secondary set of lower shed roof volumes within the main building wings shape a seating nook by the living room and a laundry area near the guest bedroom.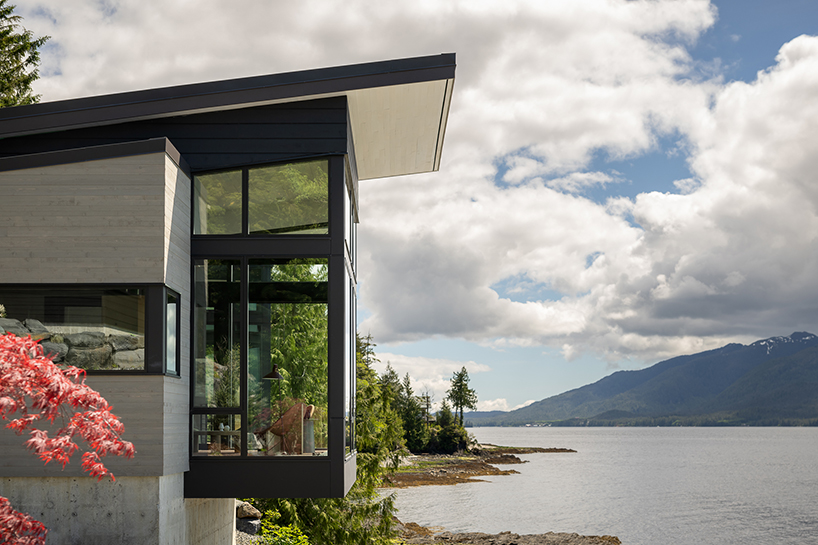 the two cantilevered forms serve as observatory units | all images by Andrew Pogue
industrial materials and soft elements form a cohesive design
Following a minimal approach, the architectural practice develops a simple building program and well-defined structure despite the initial difficulties presented on site that required heavy-handed intervention due to an existing concrete retaining wall and general limiting factors affecting the property. The team at PBW Architects collaborates with Emily Knudsen taking over the interior design for a personalized and custom plan.
Raw, industrial-leaning architectural materials blend seamlessly with softer, more refined design elements. Locally sourced wood siding extends from the exterior to the interior walls, meeting painted black windows in the living room. Concrete floors and a concrete hearth wall face pink cabinets and mixed metals in the kitchen, while the surface and exhaust hood are wrapped in a mosaic of meticulously placed tiles. The cohesive design is tailored specifically to meet the needs of the user and conforms with the Alaskan wilderness.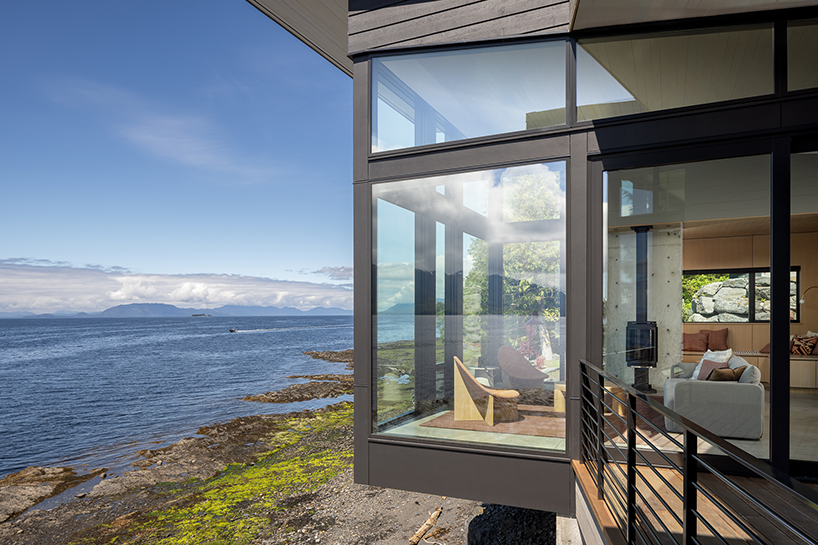 clerestory windows allow unobstructed views of the seascape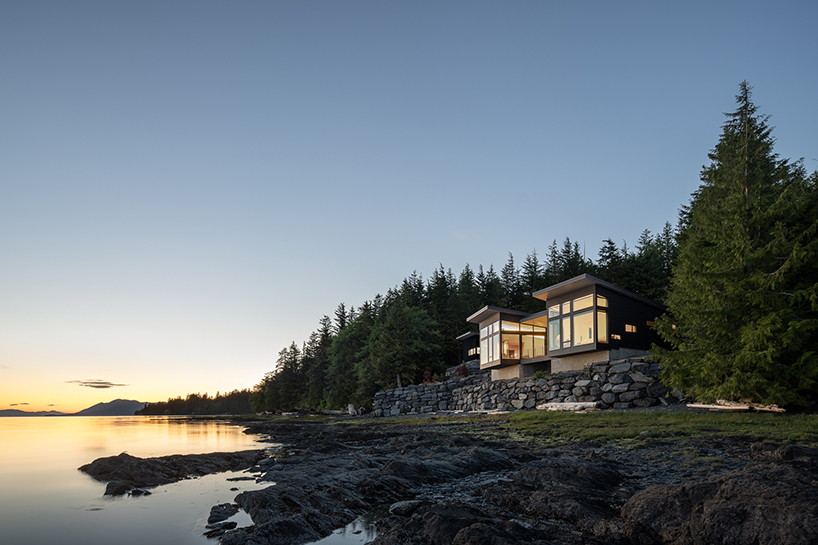 two shed roofs angle slightly away from each other, directing views to the wilderness
Source link