'five echoes' by es devlin honors chanel's iconic fragrance
art basel miami 2021: open to the public between november 30 and december 21 at the jungle plaza, 'five echoes' by es devlin is a dynamic and multisensory installation featuring a temporary forest and, at its center, a monumental labyrinth sculpture for visitors to explore. chanel commissioned the artwork to celebrate 100 years of its iconic fragrance, CHANEL N°5, through a synesthetic experience animated by light, color, and sound. once the installation closes, the team will replant the forest of over 1,000 plants, shrubs, and trees in parks throughout miami-dade county. At the same time, the labyrinth components will be recycled and repurposed. 
in retrospect – coco chanel created CHANEL N°5 as an expression of her deep connection to nature. growing up surrounded by forests, the fashion designer drew inspiration from her unique sensory history and incorporated the essence of over 20 into the iconic fragrance. devlin's multi-sensorial artwork, therefore, illuminates chanel's decade-old perfume imbued with sensory history.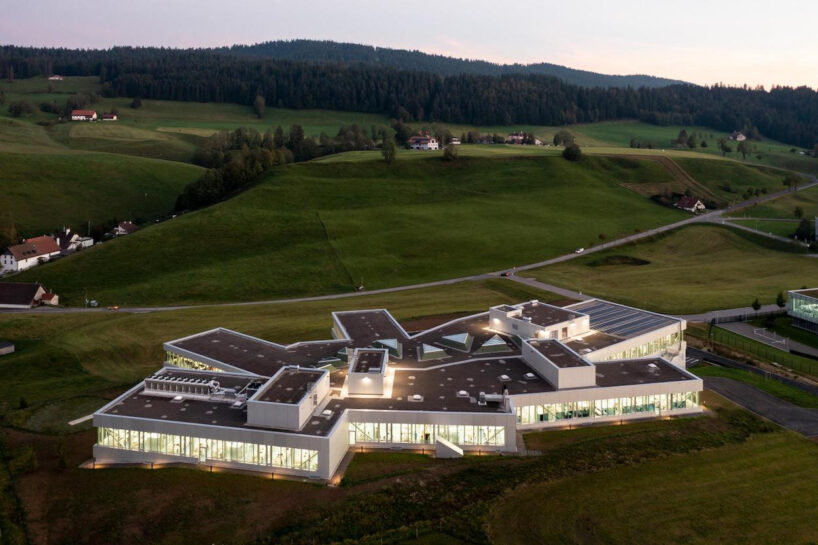 image © iwan baan
a multi-sensorial experience of light, sights, and smell 
in light of chanel's deeply sensorial perfume, artist es devlin thus presents 'five echoes' as an immersive experience dominated by the sights and smells of the forest. once visitors move through the trees, they approach a ramp surrounding the labyrinth that they can ascend – reaching a vantage point that opens unto the forest treetops and inner garden where the plants and flowers that make up the fragrance can be found. beneath their feet, a circular platform with sundial markings connects visitors to the passege of sun overhead, and to the 28 minutes it takes for the molecules in CHANEL N°5 to evaporate according to their different densities.
after descending the ramp, visitors enter the labyrinth itself, winding through five concentric pathways. drawing on the origins of the labyrinth as an ancient greek initation dance connecting humans with the earth, the installation thus evokes the symbiotic connection between the visitors and the surrounding forest.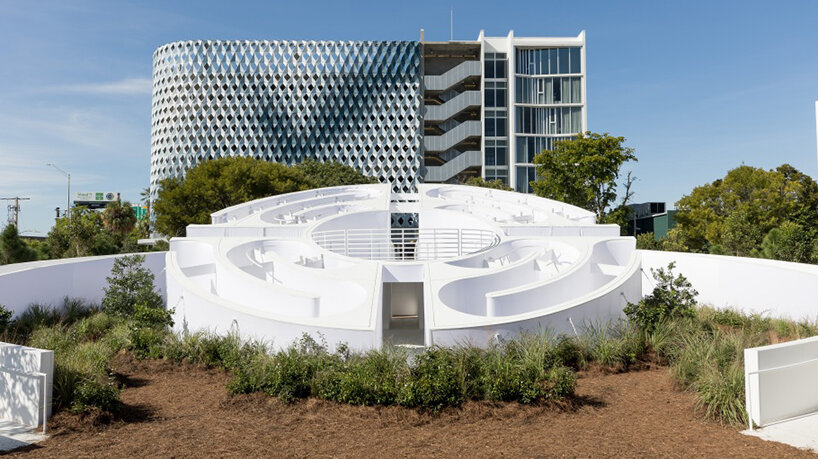 image © genesis bonilla / WWD
at the heart of the labyrinth is a synthesis of sound and light developed by devlin in close collaboration with perfumer olivier polge, building on their previous work together during devlin's first CHANEL commission, 'mirror maze'. the soundscape contrasts two methods used in the laboratory to analyze the elements of a scent: highly sophisticated gas chromatograhy molecular weight analysis, versus a profoundly engaged and experienced human sense of smell. 
in devlin's words: 'the word labyrinth originally referred to human movement: it was a dance before it became architecture. if our behavior can define our architecture, then perhaps our art and architecture can alter our behavior. if works of art can help us to see ourselves as part of the biosphere and symbiotically fuse with it […], I believe we have a better chance of making fundamental behavioral shifts that are necessary not only to avoid climate chaos, but also to live in amore just, equitable, and joyful way.'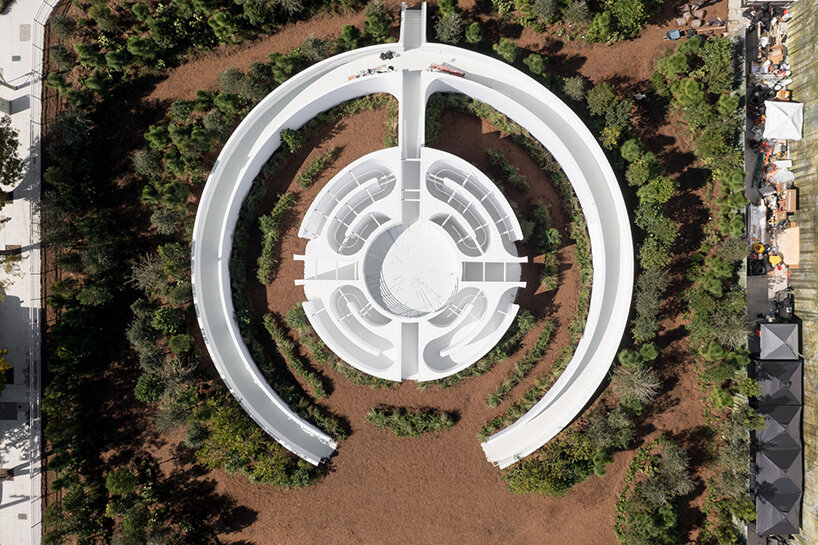 image © genesis bonilla / WWD
project info:
name: five echoes
designer: es devlin for chanel
location: jungle plaza, miami design district
partners: polge, one tree planted,  million tree miami 
total project size: 3,428 sqm
labyrinth dimensions: 30.5m in  diameter, 0.9m -6.7m in height
forest components: over 2,000 living plants / 8 different tree types / 9 varities of plants, shrubs, grasses and ferns
material: white fabric stretched over a wood armature, lit from within 
Source link