a modern relic
in celebration of the stone ruin, argentina-based studio nanzer | vitas builds its casa DP in córdoba. the team notes, 'all architecture carries implicitly its vocation of ruin,' recognizing that such a condition is architecture's final form when it ultimately returns to nature. the team designs the home to echo the physical expression of the unfinished, what time and inclemency transforms, and the ways in which the built space gradually dissolves into the landscape.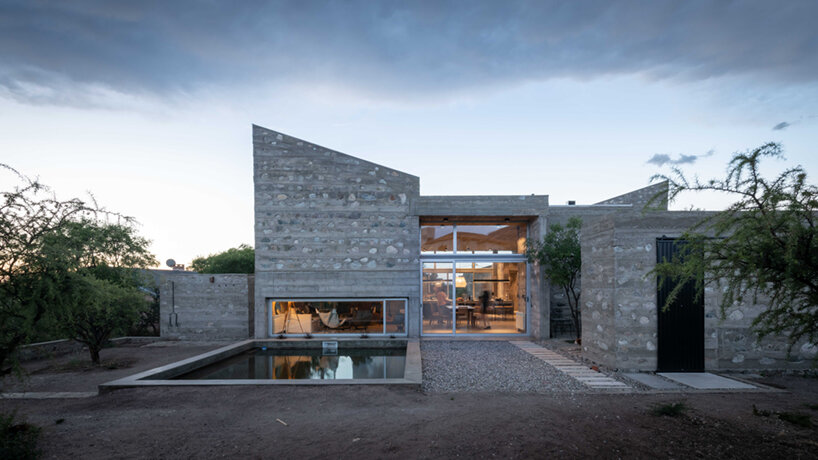 images by gonzalo viramonte | @gonzaloviramonte
a medieval streetscape by nanzer | vitas
built of concrete and stone, nanzer | vitas (see more)  designs its casa DP to suggest a natural landform emerging from the hill. the clustered volumes of varied heights and sloping roofs are articulated by strategic voids, patios, passages and interstices, which on the outside give place and preserve the species from the local forest. meanwhile toward the interior, the clustered forms resemble a medieval streetscape.
the main circulation route connects the exterior directly to the heart of the house. it takes shape as a perfectly horizontal concrete volume — with the land sloping downward and away, this circulation box becomes a suspended beam, terminating in a picture window that frames the sky. the architects comment: 'every time someone enters or leaves the house executes involuntarily the archaic gesture of looking at the firmament, the vertical infinity that gives us back the precise scale of our becoming in relation to the universe.'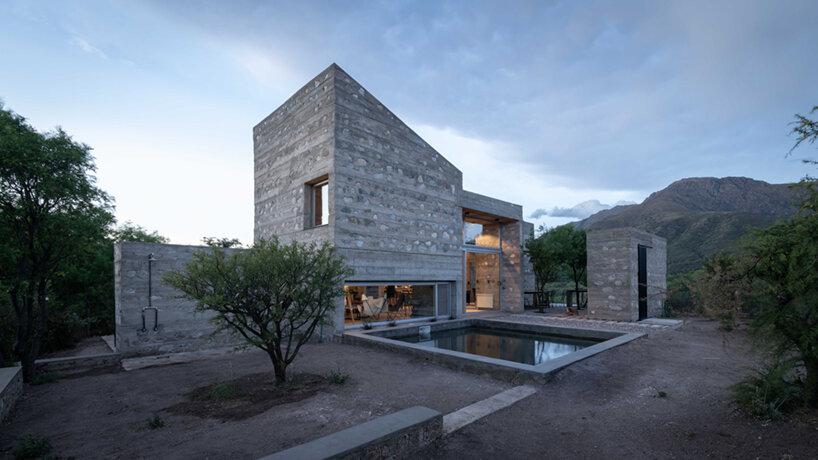 the organization of casa dp
the circulation volume bridges the uneven topography and articulates all the spaces of the house. occupants will pass through this space to access any point of the house. for this reason, it takes a central role in the project, giving continuity to the exterior landscape from inside the house through perforations that lead to internal or external gardens, creating a transition atmosphere between the outside and the domestic environments.
a 'main passage' that links, orders and leads to the rest of rooms, horizontally and vertically since it is connected to the main staircase in its intermediate rest — a typological determination that leaves both the upstairs rooms and the ground floor rooms with their own services, always equidistant and at a half level from the main meeting space, which is set around the kitchen and a fireplace.