embodying the message of sustainability
LAVA laboratory for visionary architecture presents its german pavilion at expo 2020 dubai. the structure stands as an assemblage of cubes suspended among a forest of steel poles, all enclosed by a floating roof. inside, the team employs sustainable methods including intelligent use of local climatic conditions, and reuse of materials. see designboom's previous coverage of the pavilion's first visualizations here.
tobias wallisser, director of LAVA, explains:'the key question was how to design a temporary exhibition and event space for up to three million visitors in a desert environment that was sustainable. LAVA's solution linked the expo theme of connectedness, with our approach of 'more with less,' with humans interacting with nature and technology at its heart.'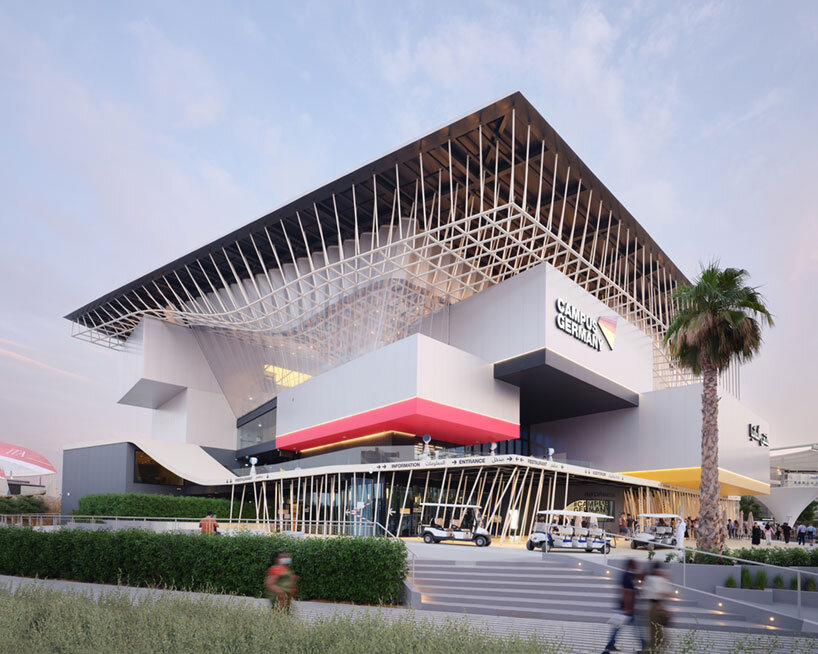 image © taufik kenan
building as exhibit: a tool to connect people
LAVA laboratory for visionary architecture (see more here) unveils its german pavilion at expo 2020 dubai (see more here) as a tool to connect people. the positioning of the cantilevered cubes generates a spacious central atrium for gathering and events. at the heart of the visitor experience this covered vertical space visually connects all functional areas with one another, helps with way-finding, creates diverse visual relationships and access points, and assists with management of large visitor numbers.
christian tschersich, project director, LAVA elaborates: 'we wanted to address the expo motto 'connecting minds, creating the future' and so we chose to represent germany as a 'campus', an open place for exchange of knowledge, ideas and innovations. rather than placing the buildings horizontally across a site, three suspended cubes are assembled vertically. this loose, porous stacking of volumes, an ensemble rather than a single form, suggests interconnectedness.'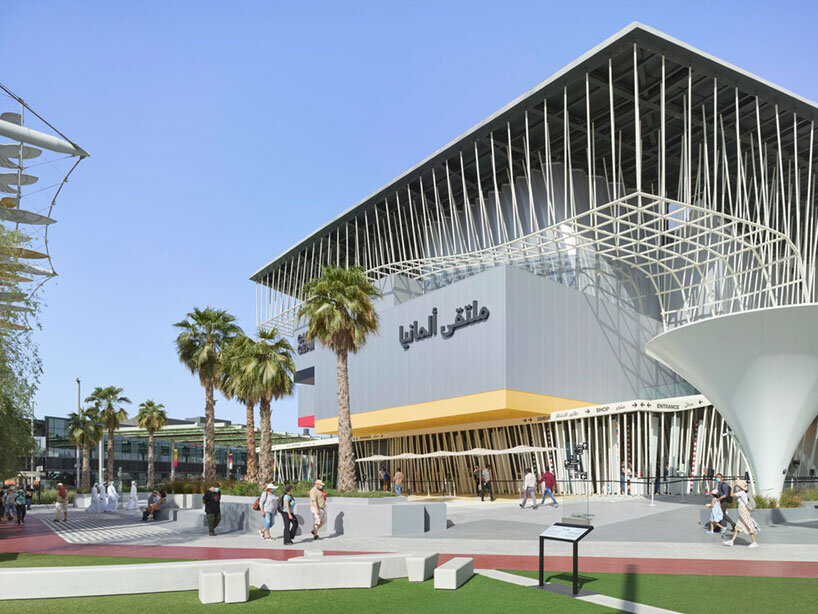 image © roland halbe | @rolandhalbe
terraces atop immersive cubes
the visitor route brings people continuously onto terraces (on top of the cubed spaces). they see their past and future trajectory, engage with other people, and enjoy vistas out to the expo site. the exhibition spaces, designed by facts and fiction, (energy lab, future city lab, and biodiversity lab) feature individual immersive experiences inside the cubes, whilst terrace exhibitions invite group interaction.
rather than a traditional exhibition hall, the campus metaphor sees the whole building as an exhibit, not merely a canvas to display, but a tool for connecting people and content, and a place to experience german innovations.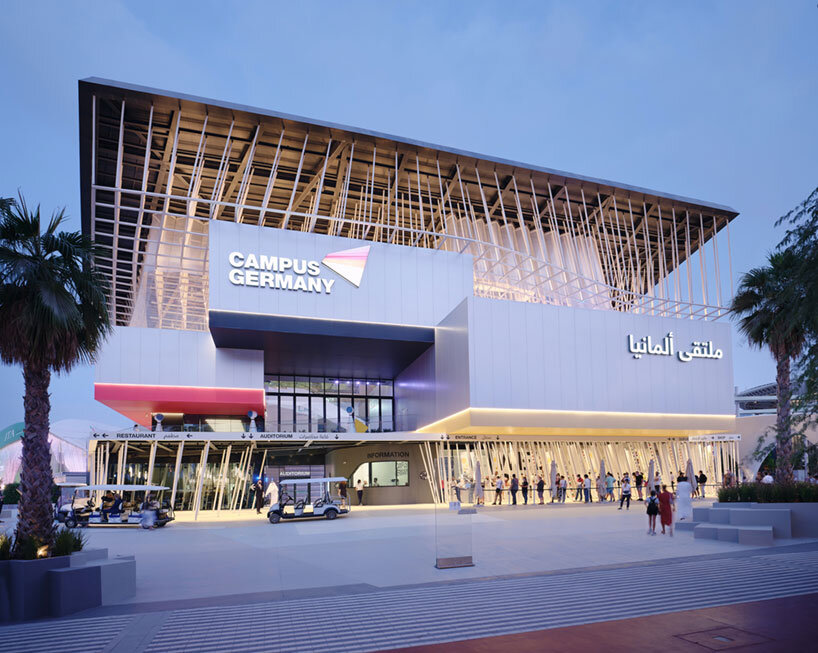 image © taufik kenan
structural sustainability
the message of the german pavilion at expo 2020 dubai is the structure itself. the minimum amount of material creates maximum volume. three cubes were stacked on top of a plinth with other functions (restaurant, pre-show, office, back-of-house) formed as an abstract landscape. this created a large volume at the centre, and a roof creates shade and comfort — a technical cloud. a sandwich of three parts: landscape, stacked cubes, roof. people between nature and technology.
the clever positioning of the stacked cubes is driven by local climate and features passive energy-saving features that reduce the impact of direct sunlight, generate natural shade, decrease the heat load and optimise the indoor climate. this intelligent creation of shade by the building elements also makes 'hybrid' air conditioning possible. it also references the design of the local courtyard house, with closed exterior facades and rooms oriented towards an inner airspace that open up to each other.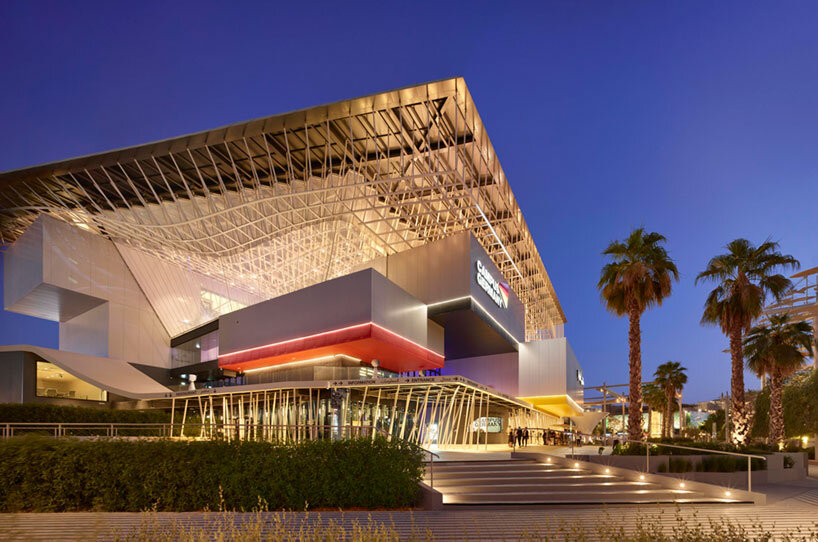 image © roland halbe
a hybrid facade minimizes the sense of building bulk and creates an iconic framing of the space. at the upper level a dynamic arrangement of 900 vertical steel poles, a forest of trees swaying in the wind, creates movement. with gradually changing angles they frame the central atrium space and modulate light.
an opaque, trapezoidal single-layer ETFE membrane can be opened and closed, responsive to different weather conditions during the six-month expo period, such as sandstorms and cooler days, and minimises the need for air conditioning. the pavilion's outer shell also includes 1.5 meters-wide glass elements that can be rotated and opened, allowing the building to breathe.