'semiramis' by eth zurich combines ai and robotic assistance
assisted by artificial intelligence and four robots, researchers at ETH zurich are currently in the process of constructing 'semiramis' – a sculptural hanging garden named after the babylonian queen. soaring to a height of 22.5 meters, the architectural structure will feature five geometrically complex wooden pods, slightly offset from each other and supported by eight thin steel pillars. 
held at the university's robotic fabrication laboratory, the manufacturing is run in collaboration with müller illien landscape architects, swiss construction firm timbatec, and other partners from industry and research. for ETH zurich professor matthias kohler, the collaborative project has already proven its value: 'semiramis has been a beacon project for architectural research, bringing together people inside and outside ETH and advancing the key research topics of the present, such as interactive architectural design and digital fabrication.'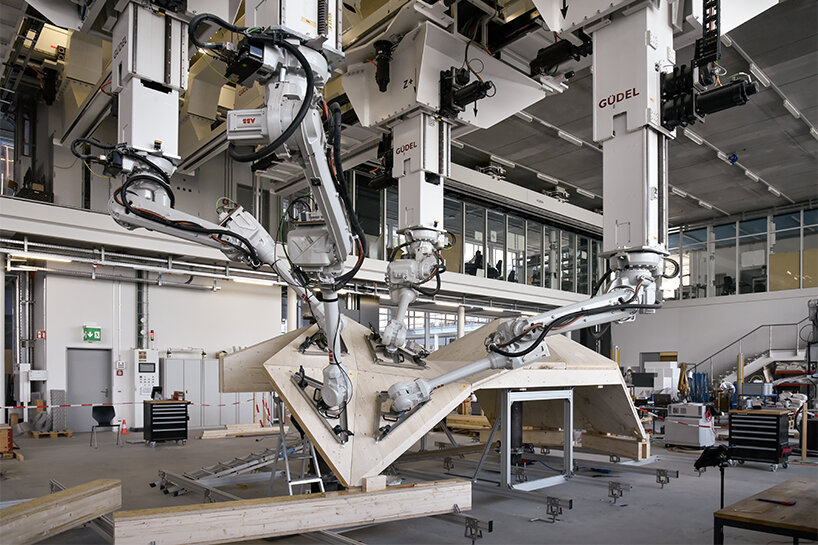 images © pascal bach / gramazio kohler research, ETH zurich
a synchronized dance dictated by algorithms
described by ETH zurich as a 'delicate dance for the highest precision', the construction process of 'semiramis' involves seamless synchronization. four suspended robotic arms start by picking up assigned wooden panels before putting them into place according to a computer-generated design. an algorithm, meanwhile, calculates the movement of robots to avoid collisions. once the machines set the panels in place, craftspeople intervene temporarily to join and glue them together with a casting resin. this goes to show how robotic manufacturing can effectively relieve humans of the heavy lifting, precise positioning, and the need for costly, resource-​intensive substructures.
with prefabrication running at full speed, ETH zurich is shipping individual pod segments to the tech cluster zug by lorry on a regular basis, where the architectural sculpture will be erected in spring of 2022 –  displaying its five geometric pods composed of 51 to 88 wooden panels and decorated by lush greenery.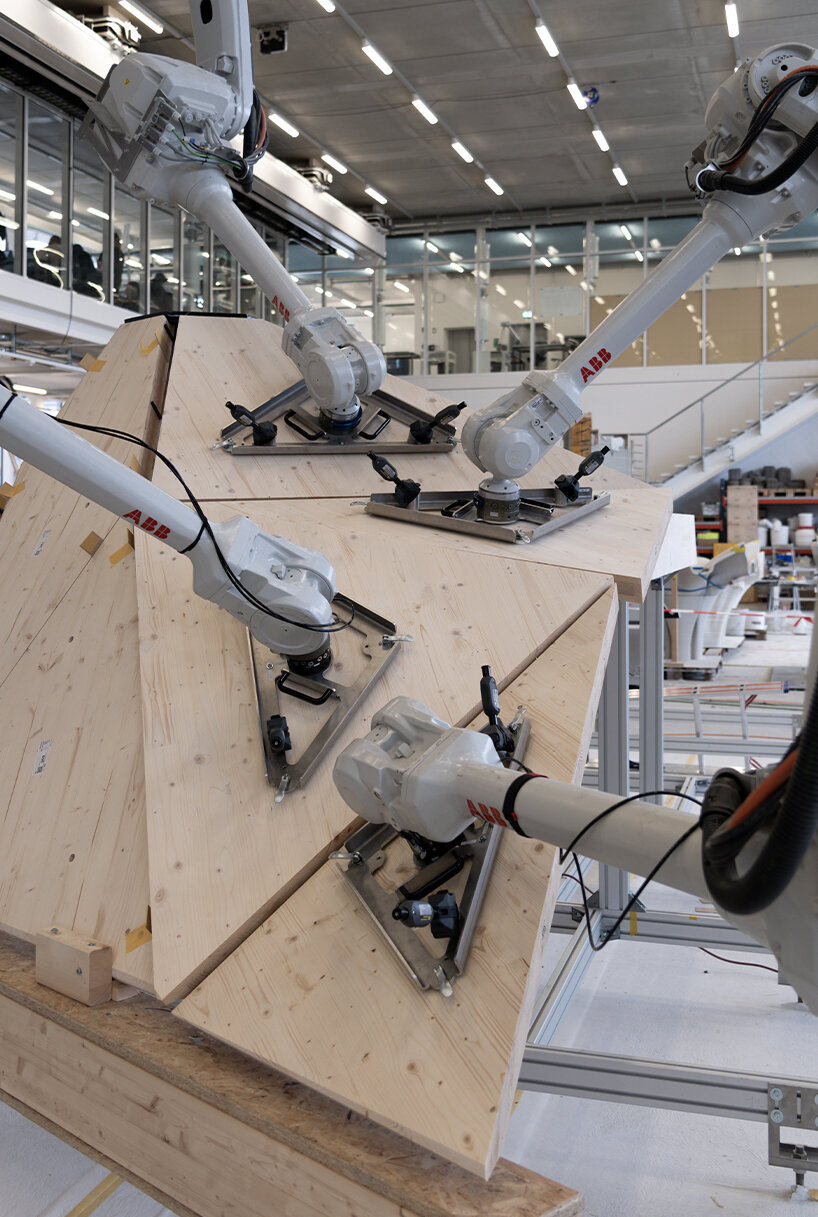 using machine learning to prototype design options 
before reaching the final design, a custom machine learning algorithm, developed in collaboration with the swiss data science center, presented the researchers with sophisticated options. each option proposed a certain pod shape and spatial arrangement that would affect target variables, like pod irrigation. 'the computer model lets us reverse the conventional design process and explore the full design scope for a project. this leads to new, often surprising geometries,' shares professor kohler. 
researchers were able to explore the designs in 3D and fine-​tune them in real-time at the immersive design lab on the hönggerberg campus. there, a software developed jointly with ETH's computational robotics lab made it easy to adapt the designs of the wooden pods all while taking into account relevant manufacturing parameters.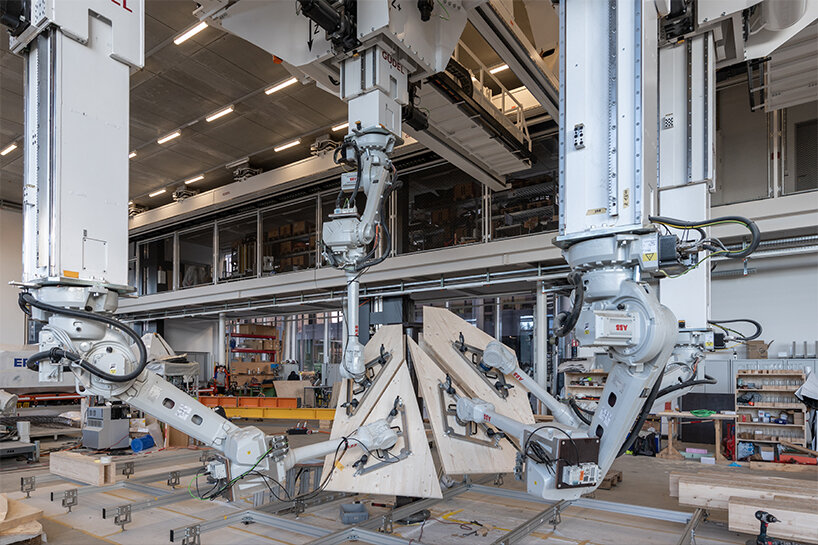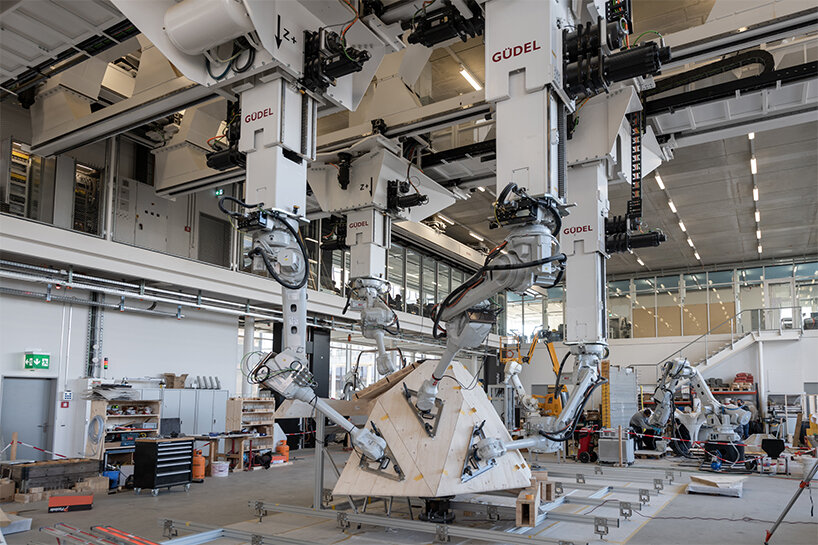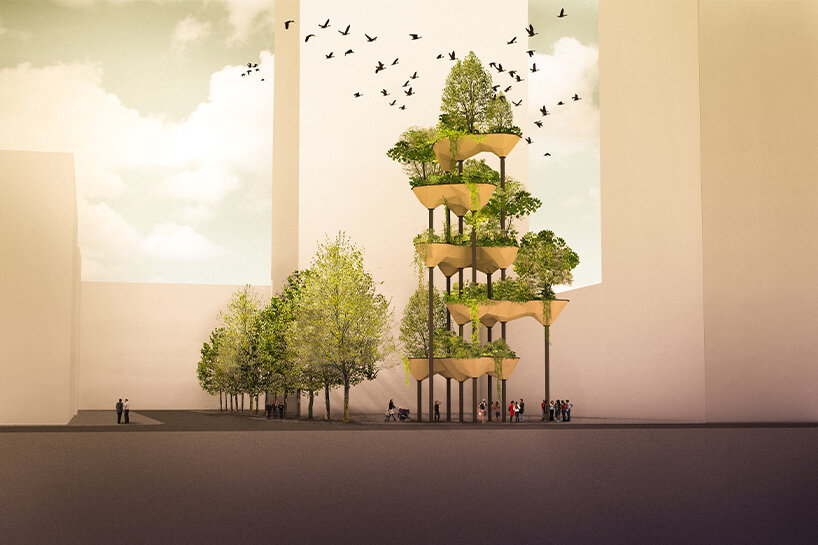 project info:
name: semiramis by ETH zurich
client: urban assets zug AG
general contractor: erne AG holzbau
collaborators: müller illien landschaftsarchitekten GmbH, timbatec holzbauingenieure schweiz AG
team: matthias kohler, fabio gramazio, sarah schneider, matteo pacher, aleksandra apolinarska, pascal bach, gonzalo casas, philippe fleischmann, matthias helmreich, michael lyrenmann, beverly lytle, romana rust
industry partners: TS3 AG, intrinsic
selected experts: chair for timber structures, ETH zurich; computational robotics lab, ETH zurich – krispin wandel, bernhard thomaszewsky, roi poranne, stelian coros; swiss data science center – luis salamanca, fernando perez-​cruz
photography: pascal bach /  gramazio kohler research, ETH zurich
rendering: gramazio kohler research, ETH zurich
video material: gramazio kohler research, ETH zurich